Aminazin —
basic element of the psychiatrist's toolkit
Aminazin tablets can easily be distinguished by dosage due to their color coding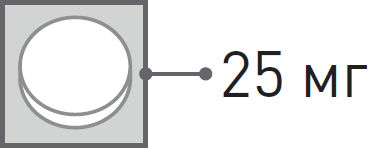 Chlorpromazine is the most prescribed antipsychotic in the world1
Powerful sedative effect
Extensive evidence base
Global application experience
Indications 2
In psychiatric practice, Aminazin is used for various types of psychomotor agitation and psychotic states in patients with schizophrenia, manic agitation in bipolar disorder and for other mental illnesses of different geneses, accompanied by fear, anxiety, agitation, insomnia; for mood disorders in psychopathies, psychotic disorders in patients with epilepsy and organic diseases of the central nervous system, and for alleviating withdrawal symptoms of alcohol and toxic substances.
Persistent hiccups.
Potentiation of analgesic effects in case of persistent pain.
Diseases accompanied by increased muscle tone (after cerebral circulation disorder, etc.).
1Clive Elliot Adams. Chlorpromazine for schizophrenia: a Cochrane systematic review of 50 years of randomized controlled trials, BMC Medicne 2005, 3:15.
2Patient information leaflet for Aminazin Р№000595/01.