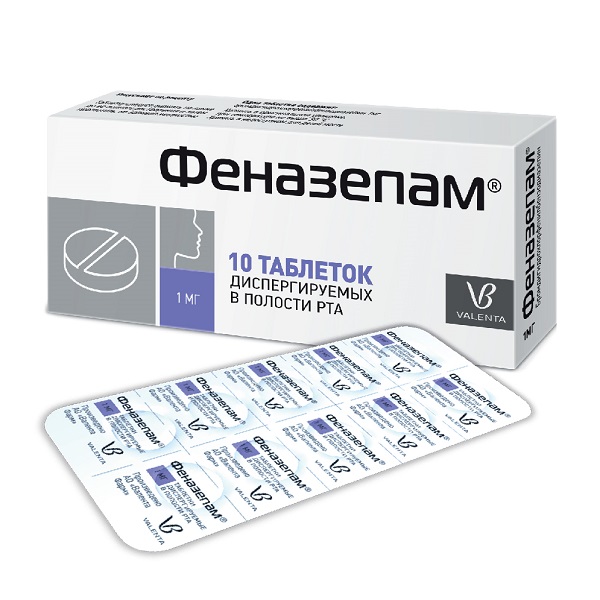 Valenta Pharm Introduces an Innovative Form of Benzodiazepine Drug for the Russian Market
17.12.2018
A unique innovative form of Phenazepam®, developed by Valenta Pharm, appeared in the Russian pharmacies in early December.
Orally dispersible 10-tablet Phenazepam® (1mg) packs is a new original Valenta Pharm's product.
Innovative drug dosage form is the result of 7+ years of experience, as well as a significant investment in development and research. Orally dispersible Phenazepam® tablets have a unique drug from among benzodiazepines with no analogues on the Russian market1.
The production of the orally dispersible 10-tablet Phenazepam® (1mg) packs incorporate a new technology that fully corresponds with the Good Manufacturing Practice (GMP) regulations and uses all the benefits of the modern, high-tech research and production Valenta Pharm's complex.
Sergei Nikolayevich Mosolov, Professor, Dr. habil. med, Honored Scientist of Russian Federation, Head of the Mental Disease Therapy Department, Moscow Research Institute of Psychiatry: "The introduction of orally dispersible dosage forms of standard drugs available for use in various branches of medicine into the wide practice is a very promising direction for improving therapy effectiveness and optimizing treatment process as a whole. The main advantages of using ODTs in psychiatry are a quick therapeutic effect comparable in strength to peroral drugs, as well as a significant increase in early and overall patient compliance. I find the creation of new orally dispersible dosage forms of anxiolytic drugs intended for the rapid relief of anxiety syndrome's acute manifestations to be particularly interesting2".
Alexander Globenko, Medical Director, Valenta Pharm: "As an expert in the field of developing original medicinal products that possesses a high scientific and production potential, Valenta Pharm constantly invests in the development of innovative medicinal products. Today, by presenting our new product, orally dispersible Phenazepam® tablets, we offer patients and medical community the long-awaited and necessary medical form. Dispersible forms of drugs, including benzodiazepines, have long been a global trend. The ease of use provided by a new drug form is particularly important when dealing with a number of psychoneurological symptoms and diseases and will, undoubtedly, favorably affect the quality of patients' lives. Using modern technologies and progressive scientific and technical achievements, Valenta Pharm is working to create innovative and popular medical solutions. I am sure that the new drug will be recognized and widely used".
The drug is available on prescription only.
1 State Register of Medicines as of October 2018. https://grls.rosminzdrav.ru.
2 S.N. Mosolov et al. Orodispersible Dosage Forms: Potential in Psychiatry // Modern Therapy for Mental Disorders – No.4, 2018.