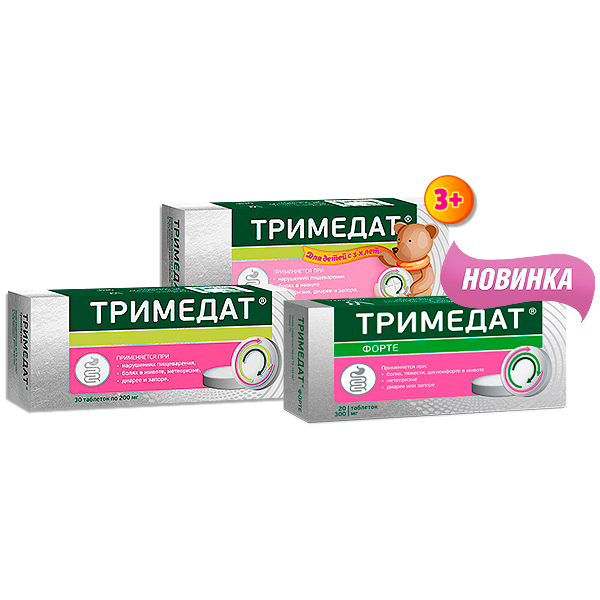 The first decade of success and victories of the medical preparatıon of the "Valenta Farm" Company gastroenterological portfolio
24.12.2018
The universal regulator of the digestive system motility - Trimedat®, the medical preparation of the "Valenta Pharm" Company gastroenterological portfolio, sums up its first 10 years on the Russian pharmaceutical market.
Trimedat® as a universal regulator of the digestive system motility has received the recognition and trust of patients and professional medical community, and also has been awarded with numerous awards and prizes over the past 10 years of use.
Vladimir Ilyich Simanenkov, holder of post-doctoral degree in medicine, Professor, Head of the Department of Therapy and Clinical Pharmacology of the North-Western State Medical University (SZGMU) n. a. I.I. Mechnikov in St. Petersburg, Chief Therapist of the Healthcare Committee of St. Petersburg Government, Vice-President of the St. Petersburg Association of Physicians, Deputy Chairman of the St. Petersburg Society of Therapists. n. a. S.P. Botkin says: "Trimedat®, has lately approved itself among doctors and patients as a high-quality and effective drug. The combined mode of action of Trimedat, bundling antispasmodic and prokinetic properties, makes it possible to use the drug as a universal remedy for effective, complex treatment of patients with GE tract functional disorders."
Among the key achievements of the drug are:
In 2015 and 2017, as part of the annual Russian Pharma Awards, the drug entered the top three in the nomination "The drug of choice among antispasmodics," according to doctors.
In April 2016, Trimedat® was considered as the most prescribed drug in Russia for patients with irritable bowel syndrome1.
Since 2016, Trimedat® was included by the general professional association of domestic specialists in gastrointestinal disorders - the Russian Gastroenterological Association - into clinical guidelines for the diagnosis and treatment of: irritable bowel syndrome, abdominal pain, functional dyspepsia and gallstone disease.
Possessing a high level of expertise in the field of development, innovative drugs and forms, "Valenta Farm" Company invested in the creation and launch of new forms of Trimedat® on the Russian market. At the beginning of 2018, a new drug form was proposed to Russian consumers and the medical community - Trimedat® Forte 300 mg, a XR tablets that allows to take the drug with a lower frequency.
"A well-deserved trust of doctors and patients," noted Olga Mikhailova, the head of BP of Gastroenterology department of "Valenta Farm" JSC, allowed Trimedat® to take first place in the market of antispasmodics - prokinetics for regulation of digestive organs motility in 2018. And we are not ready to rest, we continue to develop our brand. In 2018, with the release of the Trimedat® Forte 300 mg dosage form, the drug became even more convenient for patients: the frequency of intake reduced to twice a day, what ensures better patient adherence to treatment. We consistently follow the highest ethical standards at every stage of scientific development and production, and we believe that Trimedat® has a great future. And more than one generation of doctors and patients will trust its effectiveness in treating gastrointestinal disorders."
1According to Ipsos Comcon Prindex, April 2016