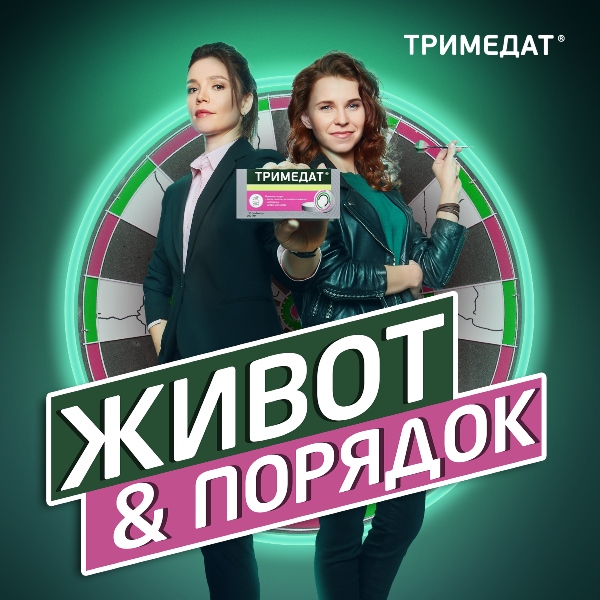 The new commercial of the medicine Trimedat® of the company Valenta Pharm started on federal channels
22.01.2020
The commercial about Trimedat®, an advanced medicine from the gastroenterology portfolio of Valenta Pharm, has appeared on federal channels ("First", "Russia 1", "NTV", "TNT", "STS", "Fifth", "TV 3", "Friday" and etc.).
The creative concept for the advertising clip – is the result of a collaboration between Valenta Pharm and the Publicis Communications advertising group.
The viewer will not see people suffering from pain, which is usually typical for commercials about medicines. A bright and exciting movie made in the detective genre and talks about the advantages of the drug Trimedat® in an unusual way.
The main characters of the video are female detectives who, with the help of an "expert" (Trimedat® medicine with a unique triple mechanism of action), reveal the "criminal scheme" and eliminate stomach pain, a feeling of heaviness and bloating - common symptoms of functional diseases of the gastrointestinal tract.
Trimedat® helps to eliminate these symptoms, influencing their cause - gastrointestinal motility disorders. In the climax of the commercial sounds the words of the winner: "Try Trimedat® and your stomach will be ok"!
Olga Mikhailova, Director of Gastroenterology business division: "We tested different creative ideas.Obviously, consumers are tired of the standard presentation; they need vivid emotions, unusual stories. A new cinematic approach to medicine advertising is innovation. This will allow Trimedat® to stand out among competitors and be remembered by consumers".
Try Trimedat® and your stomach will be ok!