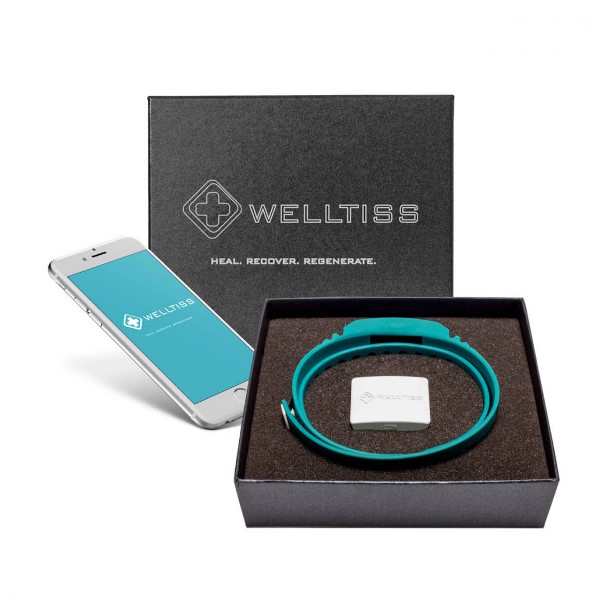 The digital division of Valenta Pharm presents a new smart massager-bracelet WELLTISS
10.02.2020
The new digital device is intended for muscles to repair themselves after trainings. Massager WELLTISS became the first product in a Valenta Pharm line of digital innovative devices.
Health Tech and Well-being - is global trend the last few years. The development and cheapening of new technologies, access to information about trends and new products form a significant demand for consumers, supporting an active and healthy lifestyle Valenta Pharm, understanding the needs of modern society, starts a new line of business and launches its first digital product.
The WELLTISS smart massager is powered by PEMF technology. Now, device for effective relaxation and muscle recovery is available in Russia, and most importantly - is placed in your palm!
The WELLTISS bracelet has straps of different lengths, which allows you to use it on any part of the body: put on a knee or fasten on the back. WELLTISS helps you quickly recover tired muscles after a light run and after intense sports trainings. The device is controlled by a mobile application that has three action programs to choose from.
Arina Skoromnaya,fitness trainer, nutritionist, exercise therapy specialist: «The device can be attached to any part of the body and do housework, rather than sitting still. It's convenient! The bracelet has a stylish and compact form. You feel pleasant electromagnetic impulses and understand that the pain goes away».
Marina Solovyova, Director of Digital Business, Valenta Pharm: «The team worked on the project for about a year and tested many products. WELLTISS was the first product, including because we ourselves love an active lifestyle, but do not want fatigue and discomfort after trainings to interfere with normal life. When deciding to bring this or that product to the market, we started from the preferences of the consumer and therefore relied on the ease of use of the device and its effectiveness. Our device can be used without interrupting ordinary everyday activities - in the office, at home, playing with children, while traveling. It is comfortable and meets the needs of the modern rhythm of life».
Detailed information about the device can be found on the web site: welltiss.ru