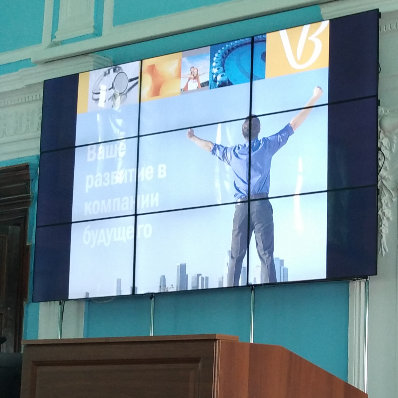 Valenta: Young Specialists' Career and Skills Development as Strategic Priority
15.10.2015
Valenta was a partner of «FILIN», the IV Pharmaceutical Camp that took place in Yaroslavl. Over 60 students from 30 leading pharmaceutical, chemical and technological high schools of Russia and Belarus took part in the event. The first International Pharmaceutical Camp was organized in September 2012.
Corporate partners for the Camp, organized for young professionals special seminars and lectures in biotech product development and manufacture, evaluation of a medicine life cycle, and pharmaceutical marketing. Invited market experts held author's workshops and business games to train the participants in efficient presentation, rules of public lecturing and risk management.
Within the camp, Valenta held a seminar, where Ekaterina Nepomnyashchaya, HR Director, Nadezhda Chernomordina, Head of the Personnel Recruiting and Adaptation Department, and Ivan Sergeev, Production Manager at operating and new factories in Shchelkovo, told the participants about Valenta, its structure, product portfolio, mission and values.
Ekaterina Nepomnyashchaya, HR Director, OAO «Valenta Pharm»: «The participants of FILIN Camp, a unique educational project, had opportunities to attend lectures and seminars presented by the leading industry experts, to receive important practical experience in the sphere of medicine and pharmaceutics. As for us, we presented Valenta, its achievements, existing starting vacancies and opportunities of development inside the company for students of the best high schools of the industry in our country.»
At the seminar, Ivan Sergeev, Valenta's Production Manager, explained, how to make career at the company. He came to the company as a young expert to a position of process engineer, and owing to his adherence to development and accumulation of professional experience, he reached the position of production manager. Currently, the construction of a new high-tech factory in Shchelkovo is at a stage of completion. In this connection, Valenta opened a number of vacancies in the sphere of production and technologies.
Besides, there is a wide choice of positions in the fields of research, engineering, marketing, promotion (field forces), analytics, quality control, information technologies and logistics at the company. Shaping its team, Valenta looks for vigorous and sociable people, who are inquisitive and open to innovations. Besides, preference is given to highly motivated candidates interested in self-improvement and development. The company offers its employees competitive working conditions and opportunities of professional development and promotion. Valenta implements a number of internal motivational programs. Competent employees possessing invaluable experience help the beginners to implement their unique ideas.
Nadezhda Chernomordina, Head of the HR Recruitment and Adaptation Department, OAO «Valenta Pharm»: Valenta is a dynamically developing company showing high rates of growth. It is our priority to attract talented young professionals who are aimed at a long-term work with our company. We aspire to give the employees ample opportunities for creativity and implementation of their ideas. We want to make everyone interested in working and developing with us."