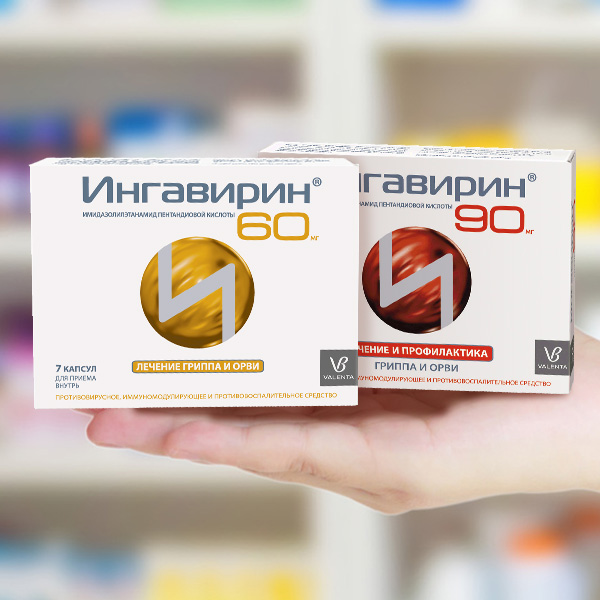 Valenta is Prepared for Flu and ARVI Season
27.01.2016
Today Valenta stated that it had completely satisfied all supply requisitions for Ingavirin innovative antiviral medicine, the extremely demanded in conditions of the current flu epidemic. It is important to note that Ingavirin is available in necessary quantities both in adult dosage of 90 mg, and in children's dosage of 60 mg, which is prescribed to children from the age of 7.
Flu is one of the most widespread viral diseases featuring the expressed intoxication of organism and serious complications, and can cause lethal outcome. On January 26, 2016, the Moscow Office of Rospotrabnadzor informed about the start of flu and ARVI epidemic. This is stated in the Ruling issued by Elena Andreeva, the Head Sanitary Inspector of Moscow. The prevalence rate exceeded the epidemic threshold in 47 regions of Russia, and the excess is already 37.8% in Moscow1. Children suffer the most from flu and ARVI. A(H1N1) virus, so-called swine flu, which provokes even more serious course of disease, dominates among flu-type viruses.
During epidemic, it is especially important to take preventive measures and conduct treatment to prevent yourself and your family from serious consequences. Professionals of the Moscow Healthcare Department call people to be watch out for symptoms of the disease and, besides actions aimed at strengthening the immune system, to take basic antiviral therapy in due time. Besides, it is necessary to use only the medicines with the highest proven efficacy2.
Alexander Machin, Marketing and Sales Director, JSC Valenta Pharm: «Anti-catarrhal portfolio is one of the key portfolios of our company. Every year we make a thorough analysis of patients' needs and plan volumes of production and supply of our Ingavirin antiviral medicine, in view of potentially probable flu and ARVI outbreak in the country. We assure our consumers and partners that we have enough Ingavirin in 90-mg and 60-mg, children's, dosages to meet the increased demand in conditions of the current epidemic.»
1 http://www.interfax.ru/moscow/491558
2 http://rospotrebnadzor.ru/upload/iblock/2ea/chuchalin-a.g..pdf