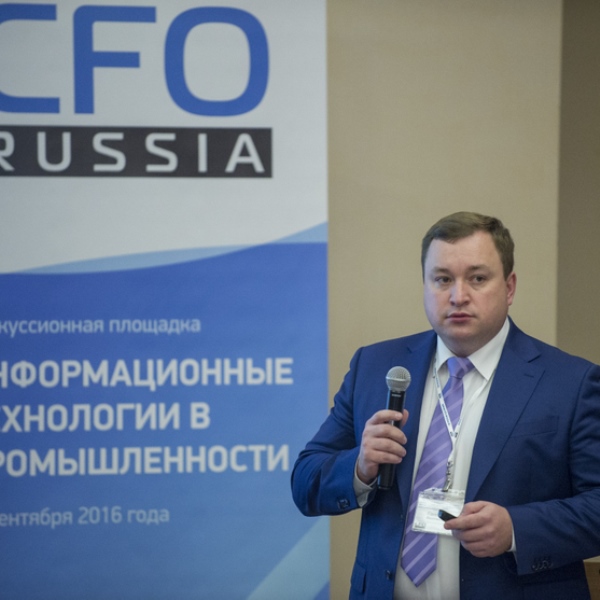 Implementation of ERP System as the Key Factor of Optimization of Internal Processes at the Company
19.09.2016
On September 16, 2016, "Information Technologies in Industry: High-Level Dialogue" conference was organized by portal CFO-Russia.ru and the CFO Club. Improvement of communications among functional directors in the sphere of IT, development of IT strategy for industrial enterprises and its adaptation to economic realities, implementation of big projects (ERP, BI, EDM) at industrial enterprises, and many other issues were the key topics for discussion within the framework of three panel sessions. Sergey Bykov, IT Director at Valenta Pharm, participated in the discussion "Effective IT Strategy for the Industrial Sector of Economy", and made a presentation on "Successful Development, Implementation and Management of ERP System at Industrial Company" at the session "Big Automation Projects as Critical Keystones to Improve the Industrial Enterprise Efficiency".
ERP (Enterprise Resource Planning) is an organizational strategy aimed at integration of production processes and operations, HR management, financial management and asset management. The strategy is focused on consistent balancing and optimization of the enterprise resources using a customized integrated package of application software to provide the overall model of data and processes for all activities1. Valenta's internal development group with the support of technical experts started implementation of ERP system in 1999. Basic modules of the system were implemented by 2005, and since then, the company has been actively carrying out optimization of processes and improvement of the system within the assumed functionality. In 2015, Valenta started to introduce the system of end-to-end business processes, launched directory management projects and a new platform for budgeting, budgetary committee and analytical management reporting. Since 2016, with a view of optimization of internal resources, IT Directorate has adopted a model of mixed teams with attracting external personnel, while some components have been implemented with the use of outsourcing.
At present, a new hi-tech Valenta factory in Shchelkovo has entered its final stage of construction. In this connection, employees of IT Directorate prepare to future quality audits and check the validity of IT systems. Before the end of 2016, the company plans to introduce a new module for warehouse process automation. Subsequently, the whole ERP system will be brought into line with the requirements of GMP quality standards.
Sergey Bykov, IT Director at Valenta Pharm: "Implementation of the overall management system allows Valenta Pharm to receive an up-to-date reporting and to optimize warehouse inventories – both raw materials and finished goods. We focus on continuous improvement of ERP system, since we consider important the optimization of internal processes and assessment of their efficiency. Changes in the inter-company processes induce renovation of the whole system in accordance with the up-to-date business requirements."
1The Gartner Glossary of Information Technology Acronyms and Terms (англ.) (pdf). Gartner (2004).