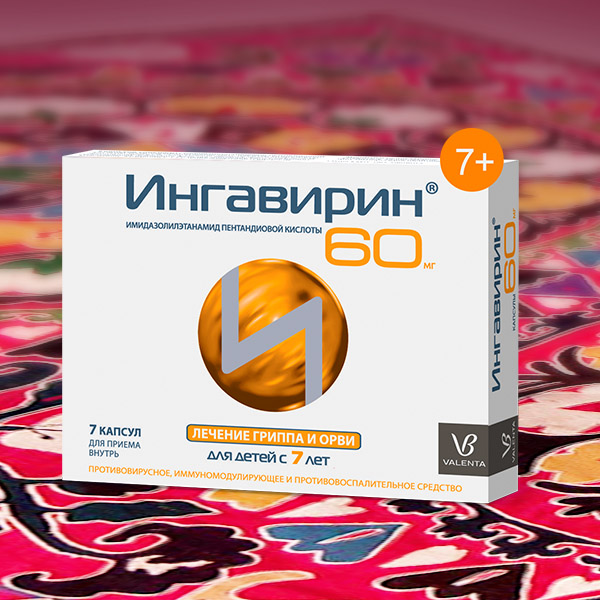 Valenta Registers Ingavirin® in New Dose in Uzbekistan and Kazakhstan
21.10.2016
Valenta announced that it had received the registration certificate for Ingavirin®, capsules of 60 mg, on territory of Uzbekistan and Kazakhstan. This is the first registration of Ingavirin® in this dosage for therapy of children over 7 in CIS countries.
The timely treatment of acute respiratory diseases in children is extremely important. The highest prevalence of flu during seasonal epidemics is found among children, while ARVIs are registered six to eight times a year. According to Rospotrebnadzor's data for the epidemic season 2016, the share of children under 17 in the age structure of ARVI prevalence is 73.1 %. In the structure of pediatricians' prescriptions for the clinical symptoms and syndromes caused by respiratory viruses, the share of antiviral medications is 8.1% (Prindex, 2016). Due to that, the product registration in the new dose is an important step towards meeting medical needs in the therapy of pediatric patients in Uzbekistan and Kazakhstan.
Ingavirin® indicated for the treatment of flu and ARVI provides antiviral and anti-inflammatory effects. According to the DSM Group analytical agency, Ingavirin® is the Russian market leader among anti-cold medicinal products1. Also, according to the results of a Prindex study conducted by Ipsos Comcon in 2016, the product topped the list of medications most frequently prescribed by general practitioners in 14 major Russian cities2.
Detailed patient information can be found on Valenta's official website http://www.valentapharm.com/ingavirin/ (MA in Uzbekistan is DV/X 01997/08/16; MA in Kazakhstan is РК-ЛС-5№022444).
1 http://www.valentapharm.com/news/535/
2 Results of PrIndex TM Medicinal Product Prescription Monitoring study conducted in April 2016 are provided by Ipsos Comcon LLC by order of JCS Valenta Pharm. Study period: spring 2015 – spring 2016; (sample of investigational products: according to table #1 of PrIndex TM Medicinal Product Prescription Monitoring study (conducted in April 2016) results); cities: Moscow, St. Petersburg, Yekaterinburg, Novosibirsk, Nizhniy Novgorod, Samara, Rostov-on-Don, Voronezh, Kazan, Ufa, Omsk, Perm, Chelyabinsk, Volgograd.
.