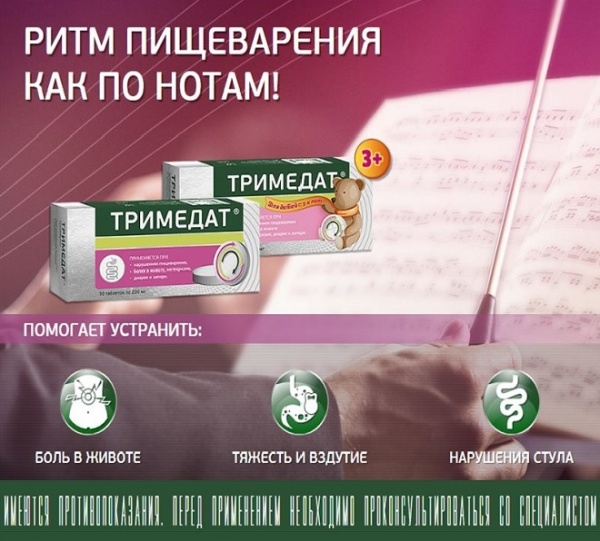 Large-Scale Advertising Communication for Valenta Pharm Gastro Portfolio Medicine Launched
26.10.2017
In October 2017, a large-scale advertising campaign for the Trimedat® medical product from the Valenta Pharm gastro portfolio was launched.
A new vivid Trimedat® commercial appeared on air of the following federal TV channels: Channel One, Russia 1, NTV, TNT, Channel 5, Ren TV, Domashny, TV 3, Yu-TV, and TV Centr. The commercial was also placed on various online platforms.
The key communication of the advertising campaign for Trimedat®, a versatile regulator of the digestive organs motor function, is simple and universally clear: an effective and reliable solution for widely spread gastroenterological problems.
The commercial was designed jointly with the TWIGA Communication Group's creative agency. The plot features a metaphorical comparison of a musical harmony and a harmonious rhythm of properly functioning human digestive organs. The video reveals the unique triple action of Trimedat®, which helps eliminate the three most widespread causes of discomfort at once: stomachache and cramps, heaviness and bloating, as well as stool disorders. In addition to relieving stomach discomfort, Trimedat® usage also impacts the cause of the disease ― it prevents recurrence and restores the natural digestive rhythm: "Trimedat® ― digestive rhythm smooth as music."
Vladimir Alisov, BP Group Product Manager, Gastroenterology Products Division, Valenta Pharm, JSC: "A new stage of the Trimedat® brand development is coming. The medical product, which has already proven itself as an effective medicine with a versatile action mechanism, is becoming more popular both within the medical community and among end users. Our new communication campaign is aimed at reinforcing the brand image, drawing consumers' attention, and improving product awareness."