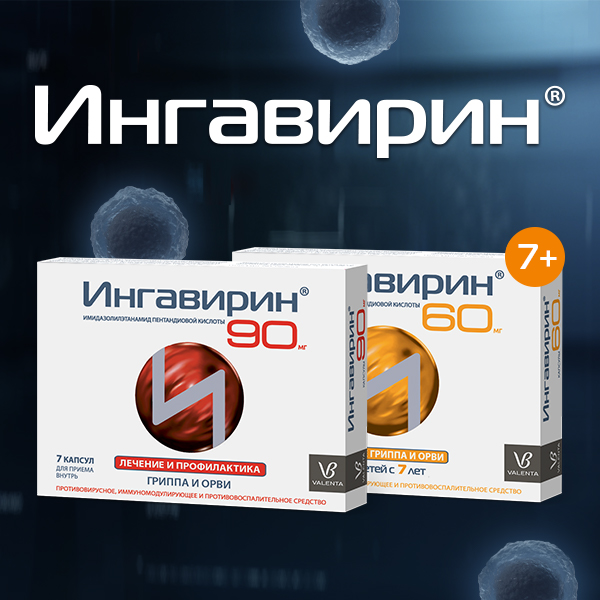 Ingavirin® Declared Russian Market Leader Among Antiviral Agents
14.11.2017
The DSM Group Marketing Agency's monthly retail audit* has revealed that Valenta Pharm's Ingavirin® became the leader in the sales of antiviral agents in monetary terms in January-August 2017 in the Russian Federation with a market share of 14.9%.
Ingavirin® is an innovative Russian antiviral medicine with a unique mechanism of action that ensures a wide spectrum of antiviral activity and a high safety profile. The product works selectively only in infected cells, without violating the structure or functioning of healthy cells. If the product is taken within the first 48 hours after the emergence of initial clinical manifestations, it reduces the period of fever, intoxication, and catarrhal symptoms and decreases the overall disease length. Ingavirin® reduces the viral load and risk of complications.
Stanislav Pugich, Group Product Manager, Antiviral Agents Business Unit, JSC Valenta Pharm: "Ingavirin® is one of Valenta Pharm's most promising products. The data obtained by Ipsos Comcon Analytical Agency** show that general practitioners, ENT specialists and pediatricians most often prescribe Ingavirin® to treat ARVIs in children aged 11-17 years old. This fact testifies to professional community's high trust in this product that is our original development and widely recognized by healthcare professionals and patients."
For a more detailed product label, please visit Valenta's official website: http://www.valentapharm.com/ingavirin/
* – based on the DSM Group's data, rating of antiviral agents brands, January-August, 2017, monetary terms.
** – based on the Prindex report, spring of 2017.