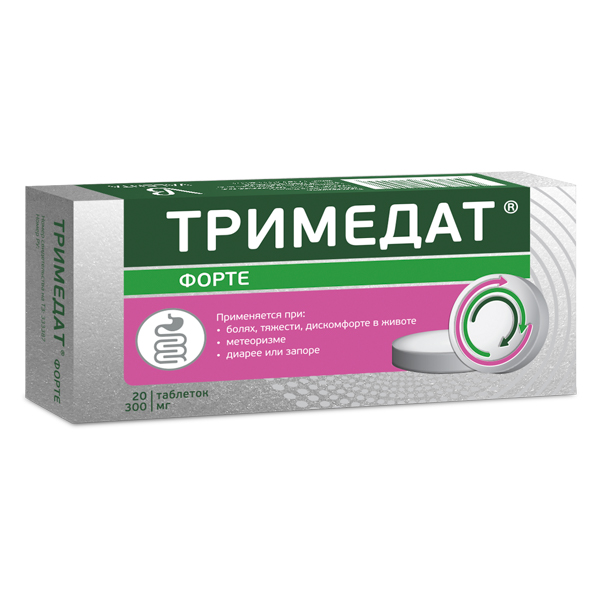 Valenta Pharm Brings a New Dosage Form of Its Gastroenterological Medicine to the Russian Market
16.05.2018
Valenta Pharm introduces Trimedat® Forte – a new form of Trimedat® that is well-known on the Russian market.
Trimedat® Forte, which comes in the form of of long-acting tablets, is a new dosage form having the advantage of being administered at less frequent intervals.
The medicine is a universal regulator of the digestive system motility, it acts throughout the gastrointestinal tract, helps to restore the disturbed digestion rhythm, eliminate such symptoms as abdominal pain, heaviness and swelling, colic, spasms, flatulence, altered patterns of bowel activity1.
Since 2016, Trimedat® has been in the clinical guidelines of the Russian Gastroenterological Association to diagnose and treat irritable bowel syndrome, abdominal pain, functional dyspepsia and cholelithiasis2.
"Trimedat® has long established itself among doctors and patients as a quality and effective drug. We take care of our patients, and therefore we pay special attention to such an important and critical property as the convenience of drug administration. We are pleased to introduce a new convenient form of Trimedat – Trimedat® Forte allowing to reduce the frequency of the drug administration, while maintaining its pharmacological properties," – noted Olga Mikhailova, Head of the Gastroenterology business unit of JSC Valenta Pharm.
It should be noted that Trimedat® is repeatedly included by the professional community of therapists, pediatricians and gastroenterologists in the TOP-3 list of the best spasmolytic drugs based on the results of online voting by physicians3.
Trimedat® is the most frequently prescribed medicine for irritable bowel syndrome among gastroenterologists4.
1 Akopyan A.N., Belmer S.V., Vykhristyuk O.F. et al. Gastroesophageal reflux and motor disorders of the gastrointestinal tract // Doktor.ru. Paediatrics. Gastroenterology. 2014. No 11 (99). pp. 45-49.
2 Ivashkin V.T., Shelygin Yu.A., Baranskaya E.K. et al. The clinical guidelines of the Russian Gastroenterological Association, the Association of the Russian Coloproctologists for diagnosis and treatment of patients with irritable bowel syndrome // Russian Gastroenterological Association. Link:http://www.gastro.ru/userfiles/Recom_SRK.pdf
3 Russian Pharma Awards 2015, 2016, 2017 in "The Drug of Choice among Antispasmodics" nomination.
4 According to Ipsos Comcon Prindex, April 2017.