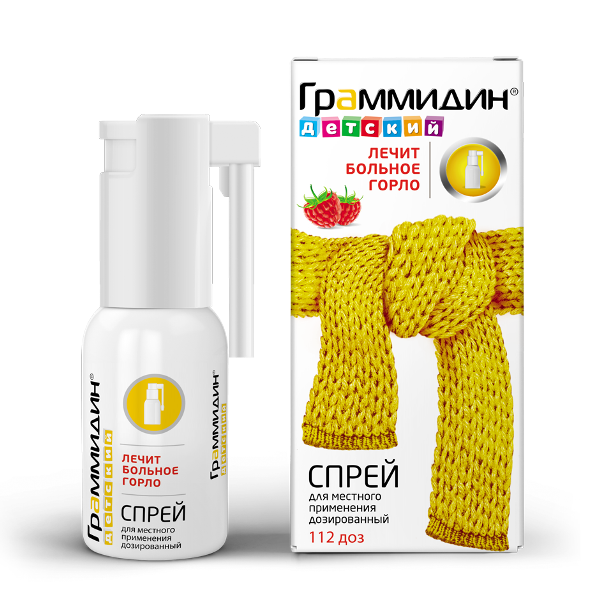 Now Convenient Form of Famous Sore Throat Drug, Grammidin® Spray, Is Also Available for Children
22.05.2018
Valenta Pharm brings a new convenient medicine form for children aged 6 years and upwards – Grammidin® Spray for kids –to the Russian pharmaceutical market.
Grammidin® Spray for kids treats for inflammatory infections of the throat (pharyngitis, tonsillitis) or of the mouth cavity (periodontitis, gingivitis, and stomatitis). The raspberry-flavored medicine has an antimicrobial effect, reduces inflammation, and eases throat discomfort and swallowing1.
Today Grammidin® Spray and Grammidin® Spray for kids are the only spray medicine for inflammatory infections of the throat with a combination of the topical antibiotic (gramicidin S) and antiseptic (cetylpyridinium chloride)2.
For reference: Grammidin® comes in the form of pills and spray for children and adults. Learn more about the drug at http://www.grammidin.ru/
Lesya Anfinogenova, Group Product Manager of the Cold Relief Drugs Business Unit of JSC Valenta Pharm: "An overwhelming majority of acute respiratory infections in children is accompanied by sore throats, while the pain in the oropharynx is unpleasant for children and significantly undermines their life quality. It's not so easy to choose a medicineto treat inflammatory throat infections in pediatry, because the drug has to meet special requirements: it should have both a wide-spectrum antimicrobial effect to be able to affect the cause of the disease and a positive safety profile - low allergenic potency and no irritation. The medicine should work in the focus of the pain and inflammation and not get absorbed into the blood stream. It's also important that children should like the flavor of the drug, because comfort in treatment is one of the components of fast recovery. So, we're pleased to offer patients well-known and widely clinically tested Grammidin® for kids in the form of spray, which many doctors and patients prefer."
Following the analysis of the patient and medical community needs, Valenta Pharm constantly invests in the development of new innovative drugs and forms offering state-of-the-art solutions to provide the healthcare system with tools improving life quality of patients.
1 Patient information leaflet for Grammidin® Spray for kids.
2 State Register of Medicines, data as of April 2018, grls.rosminzdrav.ru.