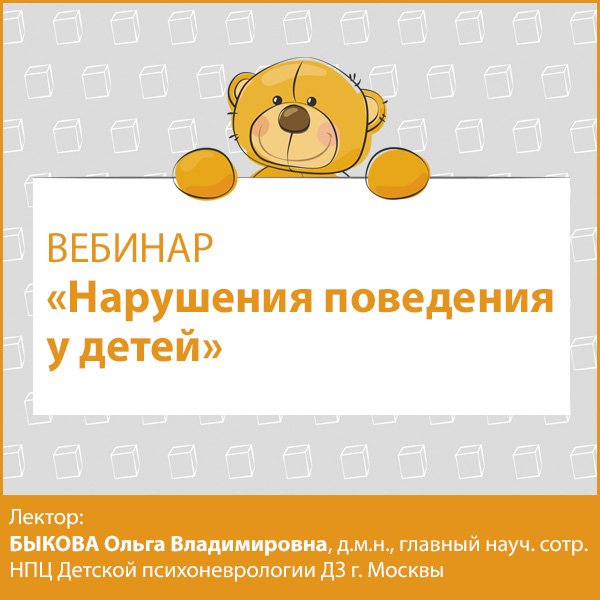 How to Diagnose Behavioral Disorders in Children and Solve the Problem Effectively
14.06.2018
The online webinar devoted to "Behavioral Disorders in Children" will be held at 05:00 PM MSK on June 20, 2018 with the support of JSC Valenta Pharm.
MD Bykova Olga, Chief Research Scientist of the Applied Research Center for Pediatric Psychoneurology of the Moscow City Health Department, will tell all the participants of the webinar specializing in pediatric neurology, psychiatry and pediatrics about the most common types of behavioral disorders in children, their causes, development mechanisms, diagnostic methods and criteria for choosing corrective therapy for behavioral disorders.
Today the problem of behavioral disorders in children and adolescents is particularly topical. Both external social factors and children's physiological and psychological peculiarities cause behavioral disorders. It is very important to diagnose a disease until it is too late and to start treatment immediately to solve the problem in the quickest and most competent way.
You can take part in the webinar by following the link: https://clck.ru/DVoHf.
Valenta Pharm has already supported several webinars in the course of which MD, Prof. Zykov Valeriy , Head of the Pediatric Neurology Department of the Russian Medical Academy of Postgraduate Education, shared the information on the following problem areas with the medical community:
"Modern Concepts of ADHD Diagnostic, Treatment and Follow-Up": https://clck.ru/DEvVo;
"Modern Concepts of Tic Disorder Diagnostic, Treatment and Follow-Up": https://clck.ru/DEvUR; and
"Developmental Language Disorders in the Practice of a Pediatric Neurologist": https://clck.ru/DFGgo.