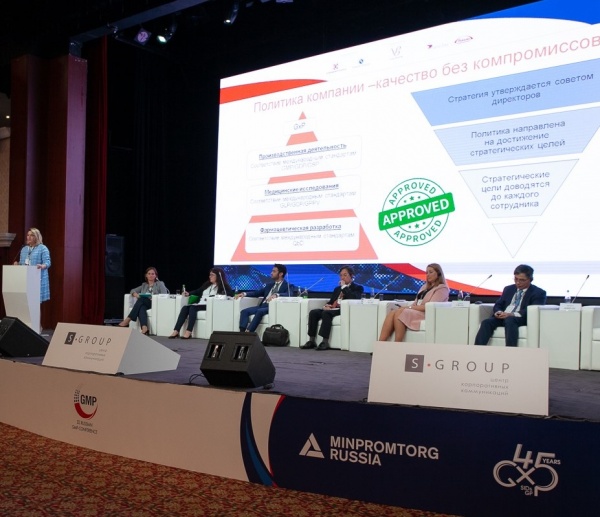 Valenta Pharm, prime sponsor of the GMP conference, describes its quality assurance practices to attendees
28.08.2018
The prime sponsor of the major industry event taking place in Kazan, the 3rd All-Russian GMP conference titled "Russia and the World. Pharma Market Growth Potential Management", is the company Valenta Pharm, a market leader with 20+ years of experience in the development and production of innovative brand-name drugs.
Anna Arutyunova, Chief Quality Assurance Officer at Valenta Pharm, spoke at the plenary session titled "Resource husbandry and intercountry interactions in the area of GMP. The mutual recognition doctrine". Using the new major research-and-production complex of Valenta Pharm as an example, Anna shared with industry representatives the expertise developed by the company in elaborating and implementing a comprehensive quality assurance strategy.
Special attention was given to total quality management through continuous and sustainable growth, which includes elements such as: innovations in growing the company's product portfolio, high expertise and scientific approach, focus on staff recruitment and development, digital transformation of business processes, continuous investment in infrastructure, as well as high standards for all procedures and processes.
"Our company has had a quality policy in place since day one. Aimed as it is at achieving the company's strategic objectives, we have been operating for many years now in compliance with the GMP standards. One of the cornerstones of our company's quality policy is continuous improvement; therefore, we have eventually extended the good practice standards beyond production-related processes: to GLP/GCP medical (pre-clinical and clinical) trials, QbD pharmaceutical research and development, QPPV pharmacovigilance etc. One of the milestones on the road to improvement was the launch of a high-tech research-and-production complex, which integrates all processes in accordance with the global good manufacturing practices. This means that Valenta Pharm embraces high international standards and uses the global best practices throughout the life cycle of innovative drugs and other medicines – from development, trialling and registration to production and follow-up. We implement cutting-edge solutions and next-generation standards across the board in the context of digital transformation of business processes, human capital development, procedures and infrastructure alike. I can say with confidence that quality assurance must be a strategic objective of all responsible manufacturers that value their reputation, are committed to growth and seek to improve the quality of life", said Anna Arutyunova.